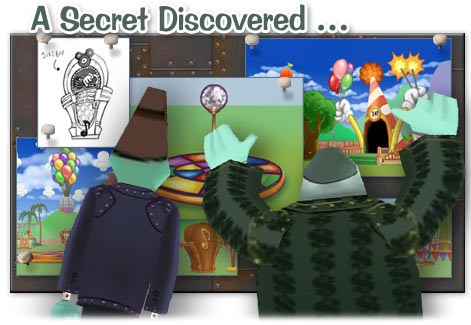 First it was a Sellbot surprise, followed by Cashbots invading in waves, and then the Lawbot's gambit. Now we are facing a heap of trouble from the Bossbots. The Toon Resistance has learned that there is a reason behind these invasions. In secret, the Toon Council has been working on something really cool and fun for Toons to enjoy. Unfortunately, the Cogs have discovered some of our plans, and they are trying to stop us. We can't let that happen -- let's show these Cogs what being a Toon really means!
And what's the big secret? It's a little something we are calling "Toon Parties!"
While we don't want to let the cat, er, Toon out of the bag too soon, here is some information on what Toon Parties will include -- Toons will be able to have parties filled with crazy activities and wacky decorations, with in-game invitations, and a calendar system to help keep your busy schedule in order. We can't wait to release Toon Parties, which are sure to keep Toons busy between HQ runs. So help the Toon Council and beat back these Cog invasions, so we can get back to work, and you can get ready to party -- Toon style!
Admin




Posts

: 38


Join date

: 2008-12-16


Age

: 26


Location

: Argentina



Member




Posts

: 3


Join date

: 2009-01-29


Age

: 29



Must we have fun all the time?

YES! >:O Fun is good for you!
Member




Posts

: 4


Join date

: 2009-02-03



Member




Posts

: 1


Join date

: 2009-02-06


Age

: 24


Location

: new york



CANT WAIT :O!
and i wish they would hurry up with it

Member




Posts

: 23


Join date

: 2009-02-06


Age

: 22


Location

: Hillbilly hell, TX



LMAO ikr! they dont hurry up? all i think ik its on tt test server tho:/

~ CottonCanday productionz ~

Member




Posts

: 8


Join date

: 2009-02-24


Age

: 22


Location

: Virginia



---
Permissions in this forum:
You
cannot
reply to topics in this forum